MEET THE GASTRONAUTS
Gastronaut is owned and managed by Mirit Cohen and Nathaniel Keller. We met as chefs at Google, where we shaped its sustainable food program, named best in the world by Food Management in 2005. Most of the time you will find us in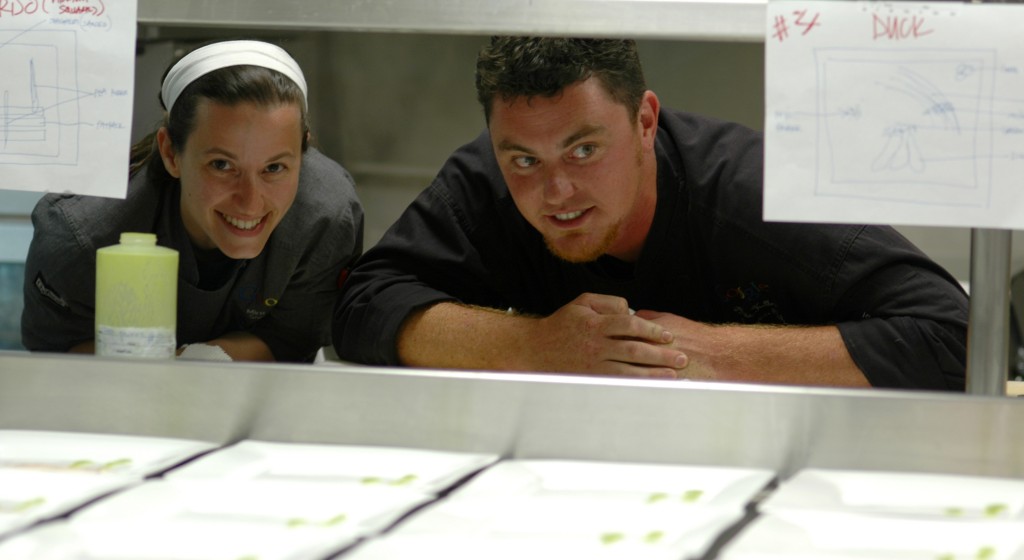 the kitchen, preparing to nurture a few hundred people with really great food.
Nate Keller, Executive Chef
Nate is a former Google Executive Chef, Culinary Institute of America graduate, and lover of all things food. He began cooking at a very young age, using only the finest ingredients. He grew up in Sacramento, the heart of California's central valley growing region, which gave him access to the local ingredients that shape the way he creates each dish. Nate is a proponent of local cooking and eating, as well as sustainable farming. He helped cultivate a culture of local food values as he opened and became the first Executive Chef of Google's Cafe 150, which sourced all of its ingredients from within 150 miles of campus. While opening several other restaurants for Google in Mountain View, New York and San Francisco, Nate developed relationships with farmers and artisan food producers throughout the Bay Area and the Hudson Valley. Opportunities to cook around the world over the last 13 years helped Nate expand his cultural food knowledge to encompass a wide variety of fares and gastronomic techniques. He loves snowboarding, cooking at home, playing with his dog, and kiteboarding.
Mirit Cohen, CEO
Mirit came to California from New Jersey to pursue a graduate degree in Developmental Psychology at Stanford. She changed careers to honor her lifelong desire to cook and plan spectacular events. In the kitchens of the various cafes at Google, she worked her way up from prep cook to Catering Chef to Executive Chef in five years, learning along the way from talented chefs like Nate, event planners, farmers and food purchasers, and the employees she fed daily. While at Google, Mirit coordinated several large-scale events and fundraisers. After her stint at Google as Executive Chef of Cafe 150 (which won San Mateo County's "As Fresh As It Gets" award for the use of fresh, local ingredients), Mirit worked as an independent event planner, consultant and caterer before joining Nate at Gastronaut. Mirit's beloved Saturday morning ritual involves a trip to the Alemany Farmer's market for fresh produce, and returning home to arrange her flowers, listen to "This American Life" on NPR with her husband and two dogs and enjoy the superior taste of farm-fresh fried eggs.