THE THRILL OF CULINARY EXPLORATION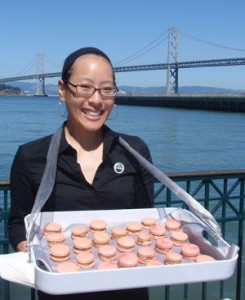 At Gastronaut, raw ingredients are the launching pad for culinary odysseys shared by chef, caterer, client and guests.
Fluent in the flavors and ingredients of diverse cuisines, we specialize in merging new recipes with authentic family traditions, creating feasts that are familiar yet extraordinary.
Some menus reimagine classic taste combinations, like our Reuben Egg Rolls or "Chicken Club" (chicken mousse wrapped in bacon on sourdough panade with avocado). Others combine flavors and textures in surprising ways – clients marvel at our Duck Rillette Moon Pies and Popcorn flavored Pop Rocks. Still others delight the senses with fun and fanciful presentations like our Caprese Pipettes with a balsamic emulsion-filled "skewer" and Strawberry or Kishu-Stuffed Donut Holes.
Whether you are feeding your employees or planning your next social event, Gastronaut will take your experience to new heights. Request a conversation with one of our chefs today!